Covid-19
TO REPORT ALL TEST RESULTS (LFD & PCR) PLEASE CLICK HERE
If someone in your household has symptoms of Covid they must get a PCR test done (not a lateral flow). That person (and only that person) needs to isolate until their results are back.
LFD (lateral flow) tests should be used daily for anyone who is a close contact of a positive Covid case, and if a positive result is returned this is treated as a positive case and does not require a follow up PCR test.
If someone's PCR or LFD returns a positive result they must isolate for 10 days or end isolation after day 7 if they test negative on two lateral flow tests taken 24 hours apart - see diagram below.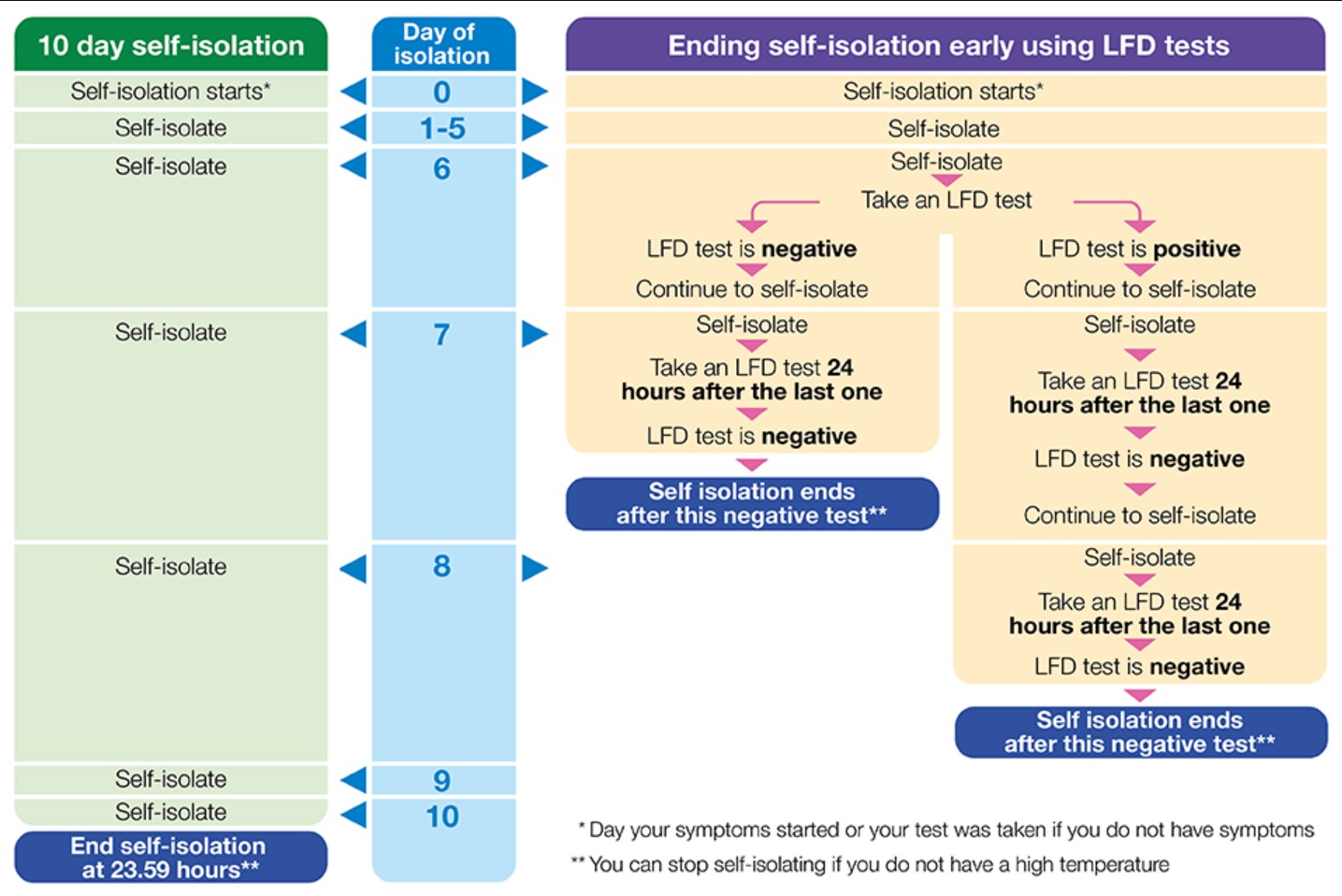 .
Siblings should still attend, but need to do daily lateral flow tests before attending school for 7 days.
If the person who has tested positive is a parent/other adult any children in the household can still attend school, unless the positive person is the only adult in the household and cannot get the children to school due to having to isolate.
If someone in your household tests positive with Covid it is advised that all other household members do daily lateral flow tests for 7 days.
The only way the school will authorise a Covid related absence is if a child has tested positive themselves or has symptoms and is awaiting a PCR test result.
As a reminder the 3 main symptoms of Covid-19 are:
Temperature (in children this may only last a very short time – do not think that if the temperature has gone it isn't Covid)
Cough
Loss of taste/smell
If your child displays any of the above symptoms please take them to have a PCR test, not a lateral flow test, and report PCR results on our test result form (see top of page).
Other symptoms regularly seen are:
Headache
Sore Throat
Runny Nose
Cold like symptoms
Obviously please do also keep your children home if they have any other illnesses or aren't well enough to be at school, this will be authorised as usual.
Home learning will continue online (Tapestry for Reception, MS Teams for Years 1-4) for homework and pupils who are isolating and well.