Hedgehogs
Hello and welcome to Hedgehogs!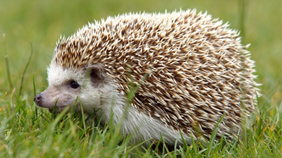 I hope you're looking forward to Year 2, we're going to have a fantastic year!
I thought you would like to know a little bit about me. My name is Miss Porter. From September, I will be known as Mrs Gardner because I am getting married in the summer holidays! This will be my 7th year teaching at Springdale.
As you may know, I love music and singing! I play the saxophone and clarinet and I sing in a few bands. I love exploring our local area and going out on my paddleboard.
We've got lots to look forward to next year. Some of my favourite lessons to teach are music (obviously), maths and art! Our class is called Hedgehogs – did you know there are 17 species of hedgehogs? I am still waiting to see one in my garden!
See you in September! I can't wait!
Miss Porter (Soon to be Mrs Gardner!)